Step 1: Set up your Metamask
If you are a new user and want to set up your MetaMask on your Chrome Extension, this video can help:
https://www.youtube.com/watch?v=gk_wiXrc5r4&ab_channel=CryptoSloCryptoSlo
Step 2: Set up Ethereum chain
If you are a new user of Metamask, the default network is Ethereum and ready to use.
Step 3: Add RACA token to your Metamask
Then, click "add tokens" and paste the contract address:
0x12BB890508c125661E03b09EC06E404bc9289040
Your RACA will be shown in your MetaMask wallet on Ethereum Network.
Step 4: Have ETH ready in your Metamask Wallet
It would be best if you had ETH or stable coin (USDT or USDC) ready to swap RACA. 
The quickest way is to press "Buy ETH" on the home screen of your wallet with Fiat.
Head to your wallet homepage. Click Buy ETH. 
You may purchase ETH with Apple Pay (US only), a credit card, or a bank transfer. MetaMask Mobile uses Transak to convert fiat currency into ETH, so you might have different restrictions depending on where you live. 
Once the transaction has been processed or "mined" on the Ethereum blockchain, your account's balance in MetaMask should update in a few minutes after the transaction is mined on the Ethereum blockchain. You can check your transaction status on a block explorer like Etherscan, by clicking the pop-up link.
After you have ETH in your wallet, you now have gas to power transactions on Ethereum, which you can use to swap for other Ethereum-based tokens or buy NFTs.
Step 5: Swap ETH for RACA
Once you have ETH on your Metamask, go to the Metamask browser or Chrome.
Where to buy:
https://app.uniswap.org/#/swap?outputCurrency=0x12BB890508c125661E03b09EC06E404bc9289040&chain=mainnet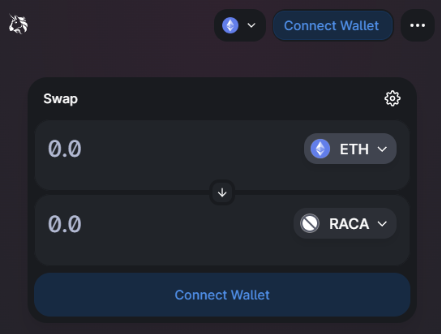 Now that you have set up ETH and selected RACA. Click Swap and wait for the transaction to clear. Depending on traffic, this process can take anywhere from a few minutes to an hour.
Don't do anything until the transaction is gone through. Go back to your Metamask, and you can find RACA in your wallet!!